Hünnebeck Rasto wall formwork
10028E
New Hünnebeck Rasto wall formwork stocked in Switzerland. The package includes 442m² wall formwork. Most of the panels are coated with phenolic sheets, only 34 pcs. of Rasto panels 0.90x2.70 don't have sheets.
Price / m² valids for coated wall formwork panels.
Price / m² does not include any accessories, panels without sheets & transport boxes. 
Price / piece of different accessories, panels without sheets and transport boxes on request.
Partial quantity: possible
Subject to prior sale
Product features
New material
Serviced and ready to use
Suitable for demanding requirements
Panel height: 2,70 m
Panel height: 1,50 m
More about the used condition.
You can find an overview of our quality levels here: 3-star. 2-star. 1-star. 0-star. In the purchase of used formwork, transparency is important to us.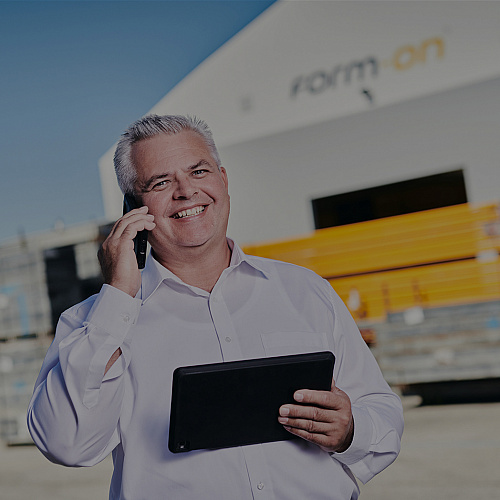 Inspect used formwork.
You can inspect the formwork of interest directly at the Form-on yard or remote via video live chat.
Package 10028E consists of
| Qty | SKU | Description | Weight |
| --- | --- | --- | --- |
| 34 PC | 589118000-HÜ531312Frame | Frame of RASTO panel 90/270 | |
| 15 PC | 600016 | RASTO panel XXL 240/270 | 284.23 kg |
| 29 PC | 531312 | RASTO panel 90/270 | 69.21 kg |
| 38 PC | 531551 | RASTO panel 90/150 | 41.49 kg |
| 13 PC | 470002 | RASTO panel 75/270 | 60.01 kg |
| 13 PC | 470013 | RASTO panel 60/270 | 53.22 kg |
| 11 PC | 536050 | RASTO hinged corner 30/270 | 71.73 kg |
| 16 PC | 536040 | RASTO hinged corner 30/150 | 41.37 kg |
| 12 PC | 470046 | RASTO panel 60/150 | 31.18 kg |
| 13 PC | 481963 | RASTO hinged corner 15/270 | 49.16 kg |
| 53 PC | 479540 | RASTO corner adjustment 5/270 | 19.40 kg |
| 15 PC | 482203 | RASTO hinged corner 15/150 | 27.83 kg |
| 13 PC | 470079 | RASTO inner corner 30/150 | 35.88 kg |
| 3 PC | 589118000-HÜ549577 | RASTO panel 65/270 galv. | |
| 2 PC | 601418 | RASTO MP-panel 70/270 S | 64.59 kg |
| 3 PC | 470035 | RASTO panel 75/150 | 35.92 kg |
| 7 PC | 575614 | RASTO panel 30/150 | 22.78 kg |
| 1 PC | 604112 | RASTO panel E 60/270 | 58.88 kg |
| 2 PC | 470057 | RASTO panel 45/150 | 26.57 kg |
| 13 PC | 479573 | RASTO corner adjustment 5/150 | 13.90 kg |
| 10 PC | 589118000-HÜ479574 | RASTO corner adjustment 5/120 S galv. | |
| 2 PC | 589118000-HÜ0312270 | Filler timber RASTO 3/12/270 | |
| 6 PC | 589118000-HÜ0412270 | Filler timber RASTO 4/12/270 | |
| 7 PC | 589118000-HÜ0512270 | Filler timber RASTO 5/12/270 | |
| 3 PC | 589118000-HÜ0612270 | Filler timber RASTO 6/12/270 | |
| 28 PC | 589118000-HÜ600918 | RASTO plank 5/9.3/270 | |
| 2 PC | 589118000-HÜ0212150 | Filler timber RASTO 2/12/150 | |
| 20 PC | 589118000-HÜ0412150 | Filler timber RASTO 4/12/150 | |
| 12 PC | 589118000-HÜ0512150 | Filler timber RASTO 5/12/150 | |
| 18 PC | 589118000-HÜ0612150 | Filler timber RASTO 6/12/150 | |
| 6 PC | 589118000-HÜ0812150 | Filler timber RASTO 8/12/150 | |
| 19 PC | 589118000-HÜ1012150 | Filler timber RASTO 10/12/150 | |
| 19 PC | 589118000-HÜ1212150 | Filler timber RASTO 12/12/150 | |
| 6 PC | 589118000-HÜ600919 | RASTO plank 5/9.3/150 | |
| 402 PC | 489000 | RASTO aligning panel clamp N | 2.92 kg |
| 595 PC | 488910 | RASTO adjustable aligning clamp | 5.08 kg |
| 105 PC | 488900 | RASTO outer corner clamp V | 6.19 kg |
| 2 PC | 479264 | Centering tension bolt | |
| 12 PC | 469566 | Centering nut 100 | |
| 54 PC | 485435 | RASTO MP bolt | |
| 192 PC | 485457 | RASTO MP nut | |
| 22 PC | 469810 | RASTO walkway bracket | 13.43 kg |
| 75 PC | 420000 | Waler bolt D 20 | |
| 2 PC | 193220 | TK railing post | 4.50 kg |
| 144 PC | 173776 | Spring pin 4 | |
| 8 PC | 547165 | MANTO pouring plattform | 140.79 kg |
| 22 PC | 589118000-HÜ10184022 | RASTO connector RSK | 2.10 kg |
| 15 PC | 602460 | RASTO transport hook | 7.69 kg |
| 7 PC | 589118000-HÜ603437 | Rasto chess corner connector | 1.00 kg |
| 45 PC | 48344 | Tie nut 230 | 2.40 kg |
| 15 PC | 400214 | Plate 8/8 | |
| 40 PC | 450764 | MANTO multi purpose waler 100 | 13.10 kg |
| 28 PC | 454410 | Waler spanner L | 1.07 kg |
| 70 PC | 197332 | Tension nut | |
| 32 PC | 589118000-HÜ600814 | MANTO/RASTO counter post | 9.20 kg |
| 9 PC | 568357 | FU-tightener | 3.60 kg |
| 10 PC | 568081 | Punched steel tape 25 m | 17.20 kg |
| 6 PC | 408780 | MANTO ratchet | 1.00 kg |