Peri Skydeck Floor Formwork
20023M
Used Peri Skydeck floor formwork incl. various beams, heads and other accessories. 
The panels are suitable for standard requirements - frames and plywood are ok.
The accessories are uncleaned and heavily used.
Transport boxes are included - valid for total purchase.
Price valid: per total quantity
Partial quantity: on request
Subject to prior sale
Product features
Serviced and ready to use
Individually inspected
Basic cleaned
Suitable for standard requirements
Medium traces of use
Accessories included
Multi-trip boxes / pallets included
More about the used condition.
You can find an overview of our quality levels here: 3-star. 2-star. 1-star. 0-star. In the purchase of used formwork, transparency is important to us.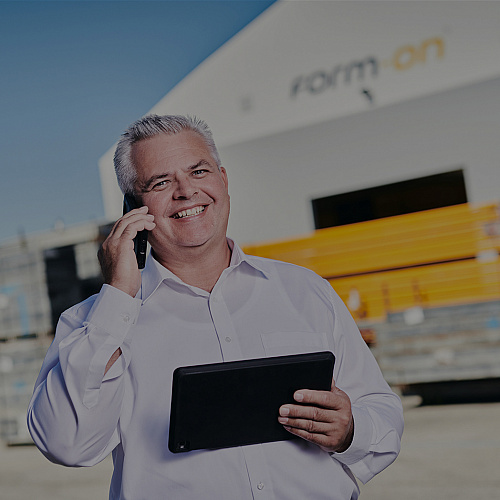 Inspect used formwork.
You can inspect the formwork of interest directly at the Form-on yard or remote via video live chat.
Package 20023M consists of
| Qty | SKU | Description | Weight |
| --- | --- | --- | --- |
| 1422 PC | 061000 | Panel SDP 150 x 75 with Alkus-Plywood | 15,50 kg |
| 68 PC | 061010 | Panel SDP 75 x 75 | 8,60 kg |
| 53 PC | 061020 | Panel SDP 150 x 37.5 | 9,78 kg |
| 88 PC | 061045 | Edge Beam SRT-2 150 | 5,74 kg |
| 9 PC | 061046 | Edge Beam SRT-2 75 | 2,72 kg |
| 20 PC | 061051 | Wall Holder SWH-2 | 5,27 kg |
| 706 PC | 061100 | Main beam SLT 225 | 15,60 kg |
| 21 PC | 061110 | Main beam SLT 150 | 9,69 kg |
| 31 PC | 061023 | End Support SSL | 2,14 kg |
| 21 PC | 061180 | Combi Head SCK | 5,34 kg |
| 99 PC | 061200 | Prop Head SSK | 3,86 kg |
| 535 PC | 061210 | Drop Head SFK | 6,18 kg |
| 10 PC | 061250 | HANDRAIL HOLDER SGH | 4,76 kg |
| 9 PC | 061260 | Guardrail Post SGP | 6,15 kg |
| 58 PC | 061280 | Panel Wedge Clip SPKK | |
| 9 PC | 061310 | TENSION SLEEVE SAO | |
| 48 PC | 126299 | | |
| 15 PC | 061500 | Pallet SD 150 x 75, galv. | 76,70 kg |
| 2 PC | 103434 | Pallet RP-2 80 x 120, galv. | 38,50 kg |
| 1 PC | 714000018 | Foreign multi-trip transport box | 70,00 kg |
| 6 PC | 714000002 | Foreign Skeleton transport box | 75,00 kg |