Hagele/Febe XT wall formwork
10015E
1400 m² used Hagele/Febe XT wall formwork incl. accessories. The material is not cleaned. The steel parts are in good condition, but some items show some signs of rust. Plywood 15mm has to be changed partly. For some panels there is extra plywood 18mm provided. The formwork is suitable for minor requirements. 
Partial quantity: on request
Subject to prior sale
More about the used condition.
You can find an overview of our quality levels here: 3-star. 2-star. 1-star. 0-star. In the purchase of used formwork, transparency is important to us.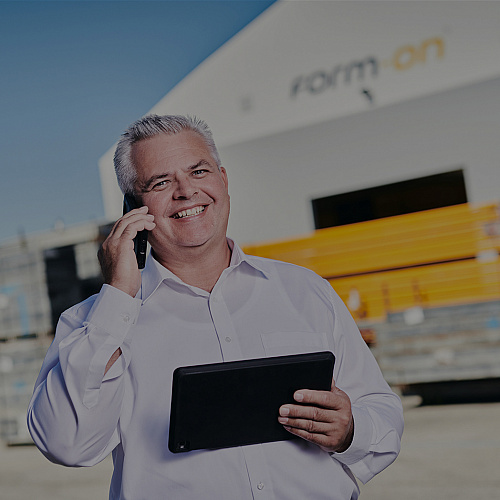 Inspect used formwork.
You can inspect the formwork of interest directly at the Form-on yard or remote via video live chat.
Package 10015E consists of
| Qty | SKU | Description | Weight |
| --- | --- | --- | --- |
| 173 PC | 589120000-HF240270 | Panel 240x270 | |
| 24 PC | 589120000-HF135270 | Panel 135x270 | |
| 23 PC | 589120000-HF090270 | Panel 90x270 | |
| 2 PC | 589120000-HF076270 | Panel 76x270 | |
| 3 PC | 589120000-HF072270 | Panel 72x270 | |
| 4 PC | 589120000-HF062270 | Panel 62x270 | |
| 6 PC | 589120000-HF050270 | Panel 50x270 | |
| 6 PC | 589120000-HF046270 | Panel 46x270 | |
| 26 PC | 589120000-HF043270 | Panel 43x270 | |
| 2 PC | 589120000-HF040270 | Panel 40x270 | |
| 7 PC | 589120000-HF030270 | Panel 30x270 | |
| 4 PC | 589120000-HF024270 | Panel 24x270 | |
| 11 PC | 589120000-HF135135 | Panel 135x135 | |
| 16 PC | 589120000-HF100135 | Panel 100x135 | |
| 4 PC | 589120000-HF | Panel 200x135 | |
| 11 PC | 589120000-HF026270 | Inside corner 26x270 | |
| 16 PC | 589120000-HF000270 | Outside corner 270 | |