Formscaff Kwik Strip Slab Formwork
20022E
300m² of FormScaff Kwik Strip slab formwork consisting of steel beams and steel deck panels. The package includes 3m high Kwik-Stage Support work consisting of top & bottom jacks, standards, ledgers and tubular bracing.
The equipment is in full working condition and basic cleaned (2-star quality).
Inquiry via WhatsApp: +43 664 88 14 37 30.
Partial quantity: on request
Subject to prior sale
Product features
Used
Serviced and ready to use
Basic cleaned
Suitable for minor requirements
Medium traces of use
More about the used condition.
You can find an overview of our quality levels here: 3-star. 2-star. 1-star. 0-star. In the purchase of used formwork, transparency is important to us.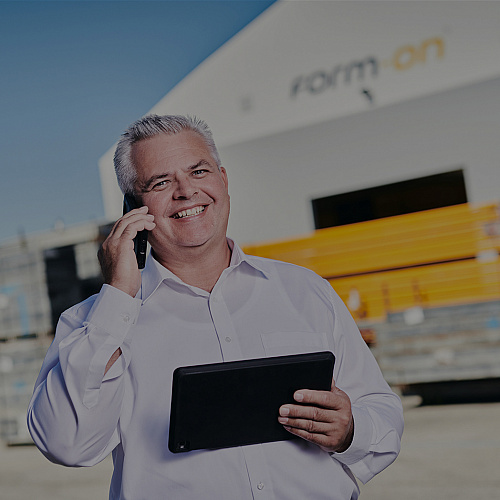 Inspect used formwork.
You can inspect the formwork of interest directly at the Form-on yard or remote via video live chat.
Package 20022E consists of
| Qty | SKU | Description | Weight |
| --- | --- | --- | --- |
| 528 PC | 589120000-FS4015201 | Deck Panel 1219x457x2.5 (coined) | |
| 117 PC | 589120000-FS1105004 | Kwikstage Standard 2500 | |
| 312 PC | 589120000-FS1105024 | Kwikstage Ledger 1294 (1246-orange) | |
| 324 PC | 589120000-FS1105021 | Kwikstage Ledger 2500 (2452-green) | |
| 117 PC | 589120000-FS1130223 | Kwik-strip D/h Jack 610 R/o (non tilt) | |
| 117 PC | 589120000-FS140335 | Bt Base Jack 610 R/o (38 Dia Tube) | |
| 70 PC | 589120000-FS1905090 | Scaffold Tube 1500 (white) | |
| 150 PC | 589120000-FS1905016 | Coupler 90 Deg 50x50 (galv) | |
| 108 PC | 589120000-FS1125183 | Kwikstrip Beam Coined 2500 (hd 42kn) | |