Doka Framax wall formwork
10003M
Are you searching for cheap Framax panels for minor usages? Choose between different element dimensions & find your Framax with Xlife or phenolic sheets!
The visual condition of the Doka Framax panels is not that good.
Due to many usages, the panels are heavily used.
The sheets show flaws, partly a renovation with pads is necessary.
The corners can be damaged.
The material is inspected, so the frames and sheets are in a operational condition.
The right accessories and different inside- and outside corners are available on request, but not included in the package.
Price valid: per full multi-trip container
Partial quantity: possible
Subject to prior sale
Product features
Individually inspected
Uncleaned
Suitable for minor requirements
Heavy traces of use
Material: steel
Mixed panel-heights
Sheet: 21 mm
Multi-layer plywood
Xlife plywood
Galvanized
More about the used condition.
You can find an overview of our quality levels here: 3-star. 2-star. 1-star. 0-star. In the purchase of used formwork, transparency is important to us.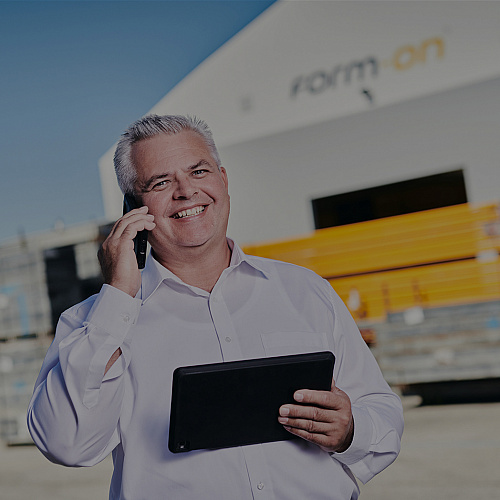 Inspect used formwork.
You can inspect the formwork of interest directly at the Form-on yard or remote via video live chat.
Package 10003M consists of
| Qty | SKU | Description | Weight |
| --- | --- | --- | --- |
| 6 PC | 588608500 | Framax Xlife panel 2.70x3.30m | 514.20 kg |
| 25 PC | 588606500 | Framax Xlife panel 2.40x3.30m | 484.90 kg |
| 77 PC | 588221500 | Framax Xlife panel 1.35x3.30m | 259.30 kg |
| 3 PC | 588222500 | Framax Xlife panel 0.90x3.30m | 154.45 kg |
| 6 PC | 588223500 | Framax Xlife panel 0.60x3.30m | 114.70 kg |
| 4 PC | 588131500 | Framax Xlife panel 0.55x3.30m | 107.50 kg |
| 1 PC | 588984500 | Framax Xlife panel 0.50x3.30m | 102.25 kg |
| 13 PC | 588224500 | Framax Xlife panel 0.45x3.30m | 97.90 kg |
| 33 PC | 588225500 | Framax Xlife panel 0.30x3.30m | 78.50 kg |
| 9 PC | 588109500 | Framax Xlife panel 2.70x2.70m | 416.00 kg |
| 150 PC | 588100500 | Framax Xlife panel 1.35x2.70m | 210.00 kg |
| 8 PC | 588100000 | Framax panel 1.35x2.70m | 201.20 kg |
| 32 PC | 588102500 | Framax Xlife panel 0.90x2.70m | 126.50 kg |
| 56 PC | 588104500 | Framax Xlife panel 0.60x2.70m | 91.50 kg |
| 8 PC | 588104000 | Framax panel 0.60x2.70m | 88.50 kg |
| 2 PC | 588105000 | Framax panel 0.55x2.70m | 86.40 kg |
| 13 PC | 588106500 | Framax Xlife panel 0.45x2.70m | 77.70 kg |
| 35 PC | 588108500 | Framax Xlife panel 0.30x2.70m | 61.50 kg |
| 3 PC | 588108000 | Framax panel 0.30x2.70m | 60.00 kg |
| 1 PC | 588601500 | Framax Xlife universal panel 1.20x2.70m | 225.75 kg |
| 119 PC | 588122500 | Framax Xlife universal panel 0.90x2.70m | 148.00 kg |
| 24 PC | 588122000 | Framax universal panel 0.90x2.70m | 141.00 kg |
| 5 PC | 588692500 | Framax Xlife panel 2.40x1.35m | 200.00 kg |
| 11 PC | 588110500 | Framax Xlife panel 1.35x1.35m | 106.30 kg |
| 1 PC | 588110000 | Framax panel 1.35x1.35m | 101.50 kg |
| 1 PC | 588112500 | Framax Xlife panel 0.90x1.35m | 68.50 kg |
| 11 PC | 588112000 | Framax panel 0.90x1.35m | 64.80 kg |
| 14 PC | 588114500 | Framax Xlife panel 0.60x1.35m | 50.50 kg |
| 4 PC | 588115500 | Framax Xlife panel 0.55x1.35m | 46.50 kg |
| 2 PC | 588116500 | Framax Xlife panel 0.45x1.35m | 41.00 kg |
| 34 PC | 588118500 | Framax Xlife panel 0.30x1.35m | 31.80 kg |
| 17 PC | 588118000 | Framax panel 0.30x1.35m | 31.10 kg |
| 1 PC | 588604500 | Framax Xlife universal panel 1.20x0.90m | 91.45 kg |
| 9 PC | 588120500 | Framax Xlife universal panel 0.90x0.90m | 63.00 kg |
| 10 PC | 588120000 | Framax universal panel 0.90x0.90m | 60.50 kg |