Doka Framax wall formwork
10002M
Used Doka Framax wall formwork elements in different heights and lengths. You can find Doka Framax elements with Xlife sheets and phenolic-resin film coated sheets.
The Framax panels are inspected and basic cleaned.
Medium used formwork with traces and leftovers of concrete on frames and sheets.
Various inside & outside corners plus accessories are not included in the package. The right accessories and corners are available on request.
Partial quantity: possible
Subject to prior sale
Product features
Serviced and ready to use
Individually inspected
Basic cleaned
Suitable for standard requirements
Minor traces of use
Material: steel
Sheet: 21 mm
Multi-layer plywood
Xlife plywood
Galvanized
More about the used condition.
You can find an overview of our quality levels here: 3-star. 2-star. 1-star. 0-star. In the purchase of used formwork, transparency is important to us.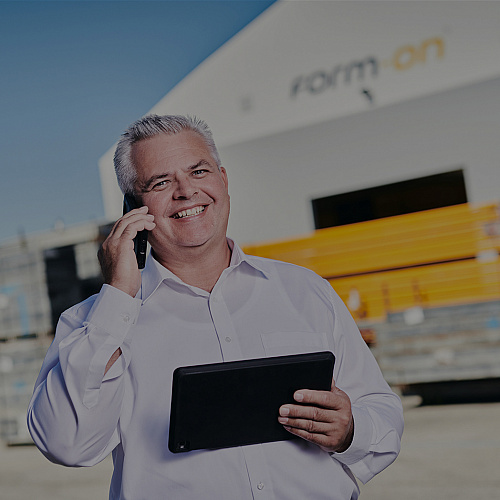 Inspect used formwork.
You can inspect the formwork of interest directly at the Form-on yard or remote via video live chat.
Package 10002M consists of
| Qty | SKU | Description | Weight |
| --- | --- | --- | --- |
| 83 PC | 588221500 | Framax Xlife panel 1.35x3.30m | 259.30 kg |
| 2 PC | 588221000 | Framax panel 1.35x3.30m | 251.50 kg |
| 2 PC | 588984500 | Framax Xlife panel 0.50x3.30m | 102.25 kg |
| 4 PC | 588671500 | Framax Xlife universal panel 1.20x3.30m | 276.70 kg |
| 1 PC | 588103500 | Framax Xlife panel 2.40x2.70m | 370.00 kg |
| 148 PC | 588100500 | Framax Xlife panel 1.35x2.70m | 210.00 kg |
| 2 PC | 588108500 | Framax Xlife panel 0.30x2.70m | 61.50 kg |
| 4 PC | 588108000 | Framax panel 0.30x2.70m | 60.00 kg |
| 72 PC | 588110500 | Framax Xlife panel 1.35x1.35m | 106.30 kg |
| 15 PC | 588112500 | Framax Xlife panel 0.90x1.35m | 68.50 kg |
| 10 PC | 588116500 | Framax Xlife panel 0.45x1.35m | 41.00 kg |
| 80 PC | 588118500 | Framax Xlife panel 0.30x1.35m | 31.80 kg |
| 35 PC | 588124500 | Framax Xlife universal panel 0.90x1.35m | 79.30 kg |
| 23 PC | 588120500 | Framax Xlife universal panel 0.90x0.90m | 63.00 kg |