Doka D3 Load-Bearing System
30008E
Used Doka D3 load-bearing system material for slab formwork. Considered slab thickness is up to 300mm for an area of 400m². The system is ready to use and suitable for demanding quality requirements.
35 individual towers with a height of 6.00m.

1.80, 1.20 and 0.90 frames with mixed 1.00m, 1.50m and 2.00m bracing widths for layout flexibility.

Can be assembled horizontally and lifted by crane.

Design load capacity of 54 kN per leg (D3 can be configured up to 94 kN/leg).

10% lighter than Staxo 100 frames with practically same leg load capacity.

The material is cleaned and has only minor traces of use.
The lump sum valid ex-works Jebel Ali free zone.
Transport volume: 1x trailer or 1x 40'HC container.
Price excludes VAT & Multi-Trip Packaging.
Partial quantity: on request
Subject to prior sale
Product features
Used
Serviced and ready to use
Professionally cleaned
Suitable for demanding requirements
Minor traces of use
More about the used condition.
You can find an overview of our quality levels here: 3-star. 2-star. 1-star. 0-star. In the purchase of used formwork, transparency is important to us.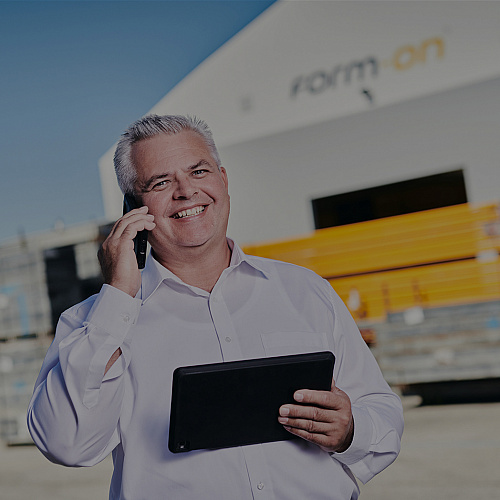 Inspect used formwork.
You can inspect the formwork of interest directly at the Form-on yard or remote via video live chat.
Package 30008E consists of
| Qty | SKU | Description | Weight |
| --- | --- | --- | --- |
| 140 PC | 582942000 | d3 frame 1.80m | 33.10 kg |
| 70 PC | 582941000 | d3 frame 1.20m | 25.20 kg |
| 70 PC | 582940000 | d3 frame 0.90m | 20.50 kg |
| 22 PC | 582772000 | Diagonal cross 9.100 | 4.05 kg |
| 18 PC | 582773000 | Diagonal cross 9.150 | 5.23 kg |
| 30 PC | 582774000 | Diagonal cross 9.200 | 6.57 kg |
| 44 PC | 582610000 | Diagonal cross 12.100 | 4.61 kg |
| 36 PC | 582612000 | Diagonal cross 12.150 | 5.70 kg |
| 60 PC | 582614000 | Diagonal cross 12.200 | 6.90 kg |
| 44 PC | 582620000 | Diagonal cross 18.100 | 6.10 kg |
| 36 PC | 582622000 | Diagonal cross 18.150 | 6.90 kg |
| 60 PC | 582624000 | Diagonal cross 18.200 | 7.77 kg |
| 840 PC | 582528000 | Spring locked connecting pin 16mm | |
| 420 PC | 582943000 | d3 coupler | |
| 280 PC | 582947000 | d3 safety hook | |
| 140 PC | 582946000 | d3 screw jack foot | 7.88 kg |
| 140 PC | 582945000 | d3 screw jack U-head | 8.60 kg |